Polar Anti-Mould Paint
Quick Drying Time
Anti-Mould Formula
Hard Wearing & Washable
Buy on Amazon
Free next day delivery
on all UK orders.
Learn more
Free Technical Support
Quality Assurance
Made in the UK
30 DAYS FREE RETURNS
Accepted Payment Methods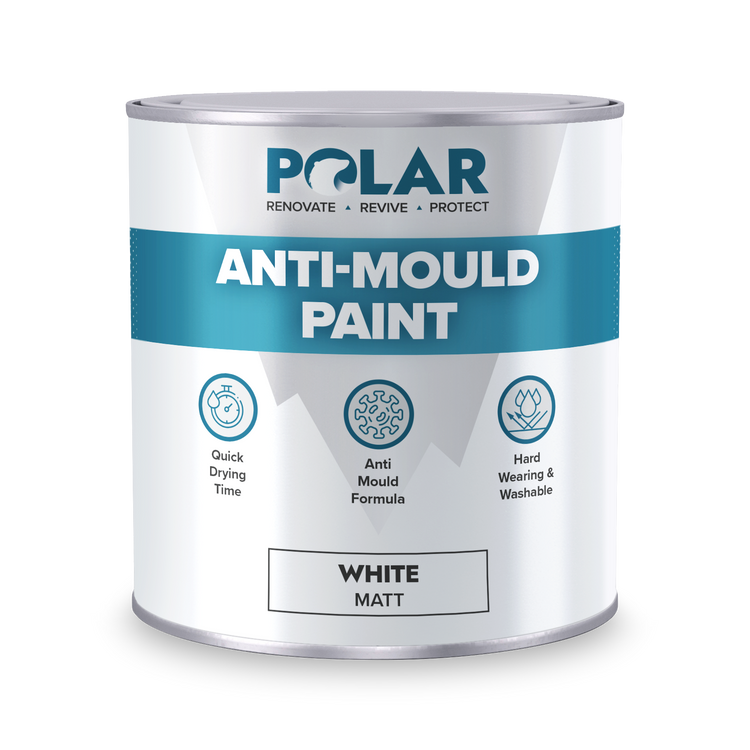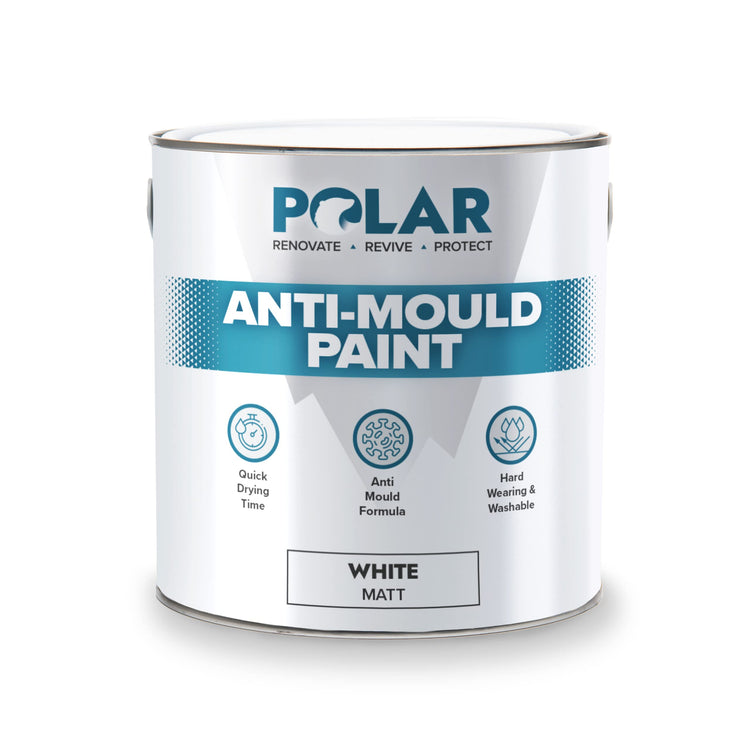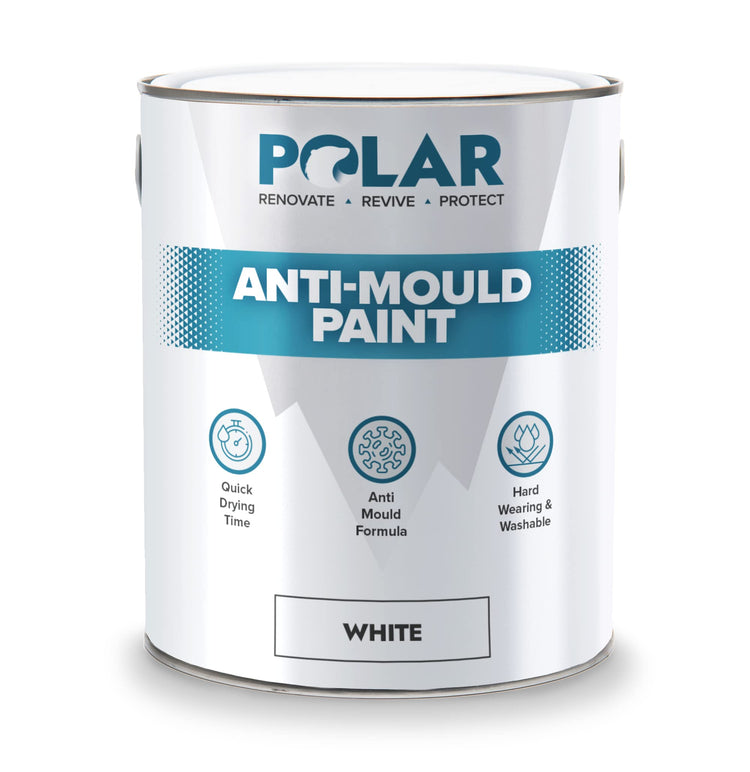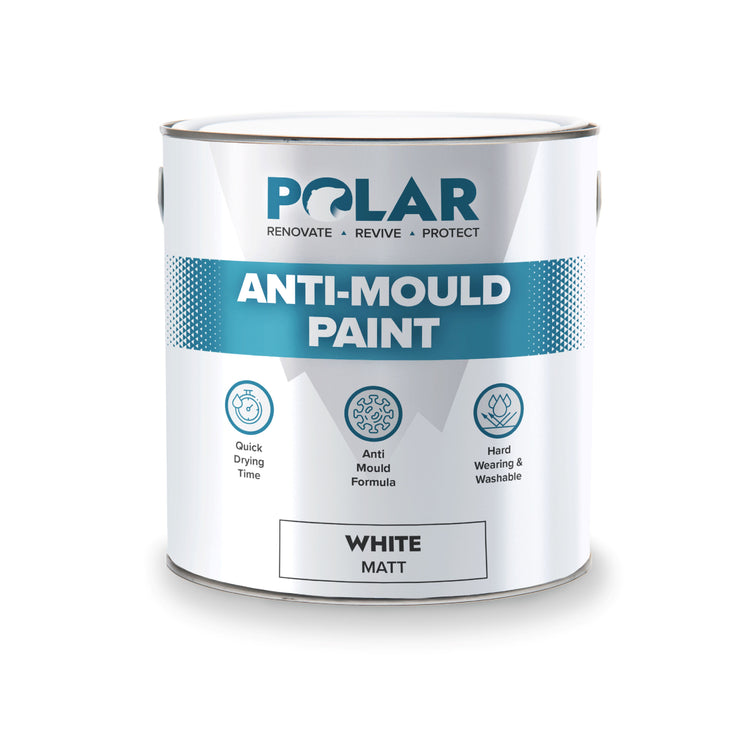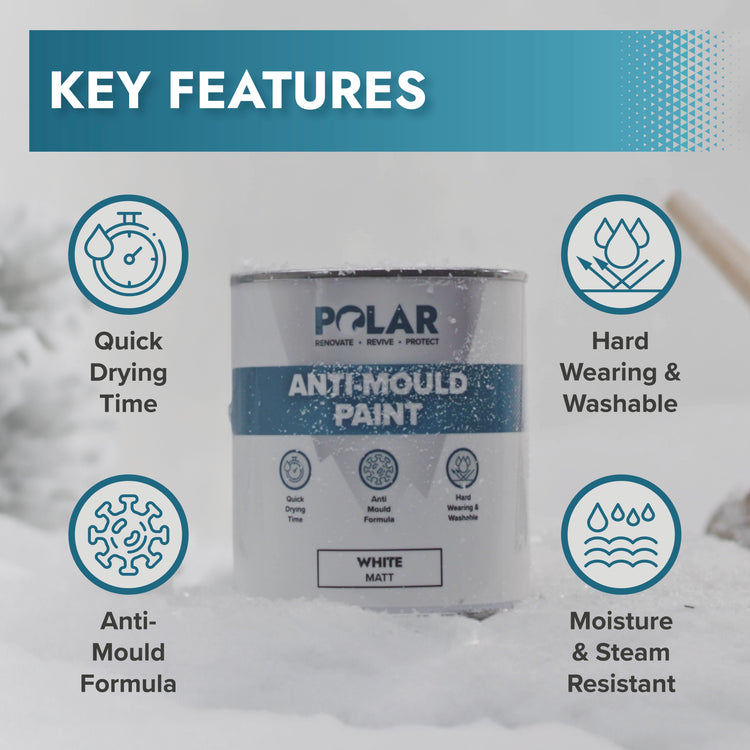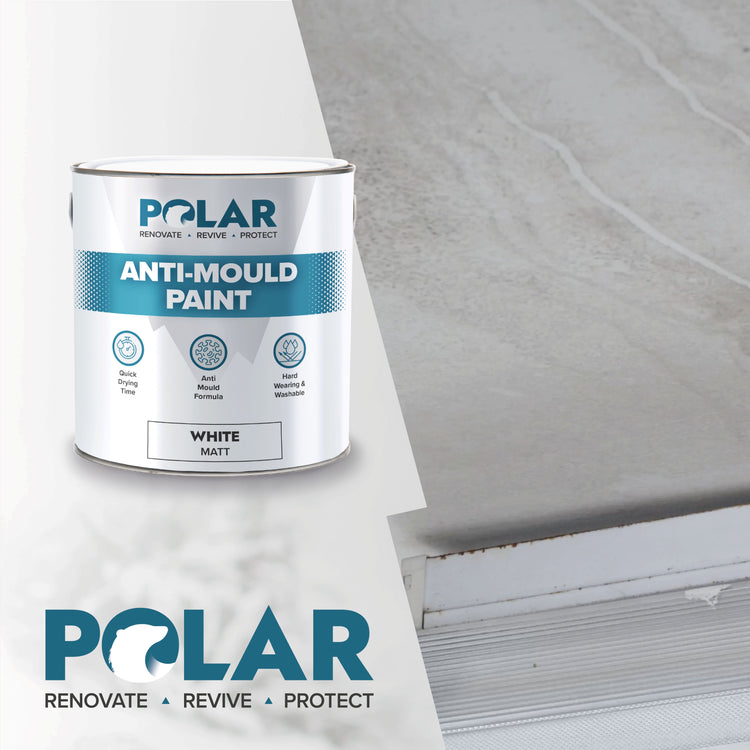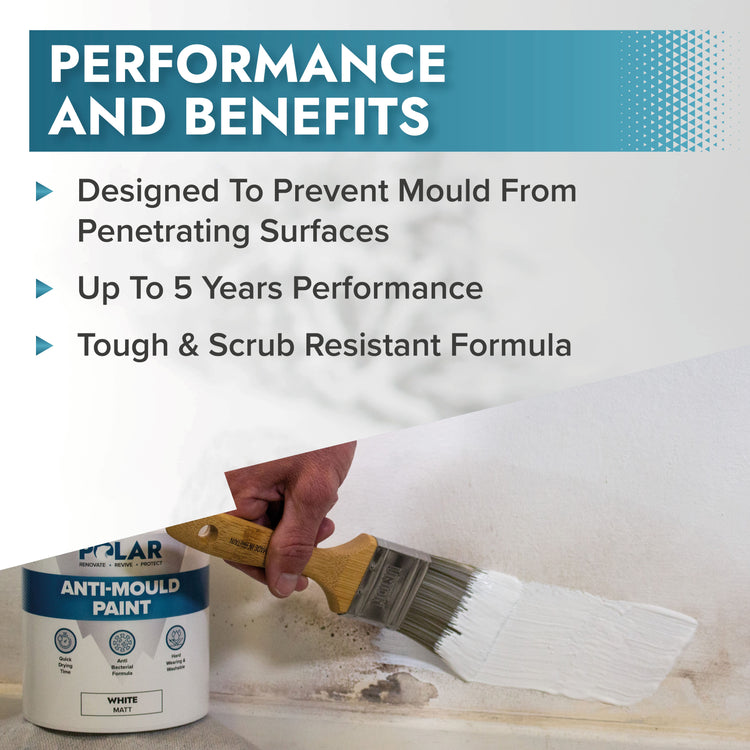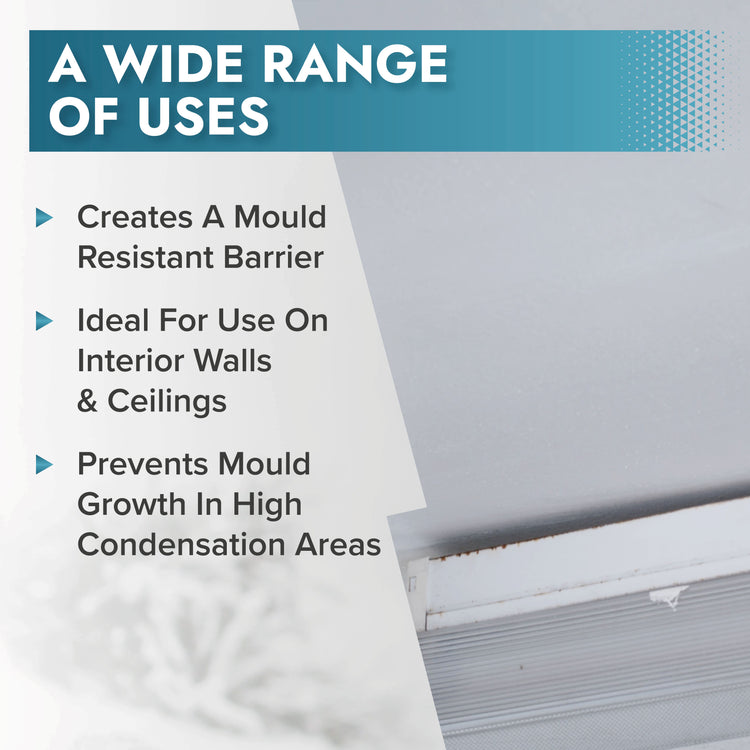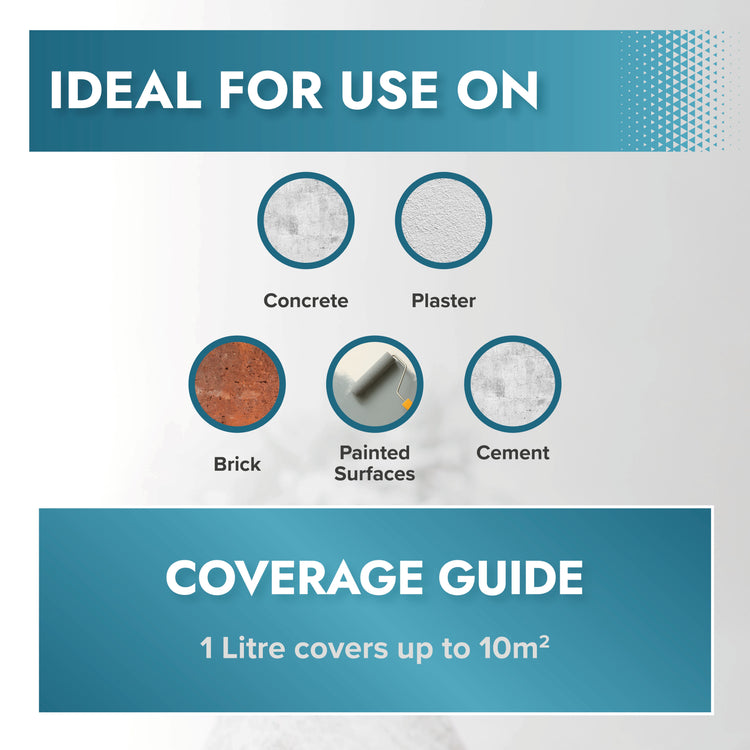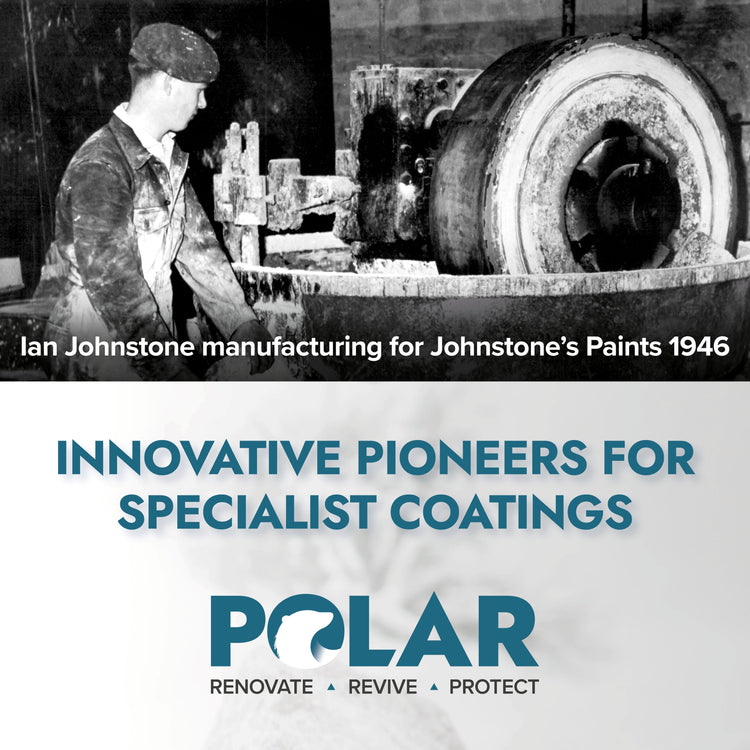 Product Details
PREVENT & CONTROL – Polar anti-mould paint is specifically designed to prevent mould from penetrating interior walls and ceilings.
MOULD RESISTANT - provides resistance against mould growth in high condensation areas. Suitable for use on interior wall surfaces including brick, concrete, cement and plaster (not breeze blocks).
PREPARATION – Ready for use on interior surfaces where mould has appeared. Before painting, the surface should be dry, clean and free from grease, dirt, rust and loose or flaking material. Any mould growth should be wiped down with bleach or anti-mould spray and left to dry.
EASY APPLICATION – Apply Polar Anti-Mould paint to a clean and dry surface, using a brush, roller or airless spray. Drying time is between 2-3 hours, a second coat can be applied after 4 hours. The spreading rate is up to 11 sq. metres per litre.
INTERIOR USE - Ideal for use on internal walls and ceilings in bathrooms, kitchens, and bedrooms, or around doors, frames, skylights, cold water pipes and cooling ducts. Suitable for domestic or public areas.
Coverage Calculator

How Much Do I Need?

Measure your area precisely, drop the numbers into this smart calculator and it will tell you straight away how many litres you'll need to complete your project.
Use For The Following Surface Types

Brick

Concrete
Technical Specifications

Interior/Exterior
Interior
Number of Coats
Two
Coverage
500ml covers up to 5.5m²
1 Litre covers up to 11m²
2.5 Litres covers up to 27.5m²
5 Litres covers up to 55m²
Dry Time
Touch dry in 2-3 hours.
Recoatable after 4 hours.
Colours
White
Application
Brush or Roller
Application Temperature
Above 10°C
Paint Base
Water Based
Size
500ml
1 Litre
2.5 Litre
5 Litre
Application

Preparation

Surface to be painted should be dry, clean and free from grease, dirt and loose or flaking material.
Rub down previously gloss painted surfaces with fine waterproof abrasive paper and rinse thoroughly.
Any mould growth should be wiped down with bleach or anti-mould spray, left to dry, then apply the Anti-Mould paint.

Application

Stir well before use.
Apply an even coat either by brush or roller.
Seal absorbent surfaces with a first coat thinned down with up to 10% clean water.
Apply 2 coats.

Finishing Up

Remove as much product as possible from application equipment before cleaning.
Clean equipment immediately after use with warm soapy water and rinse thoroughly.
Downloads
Related Videos